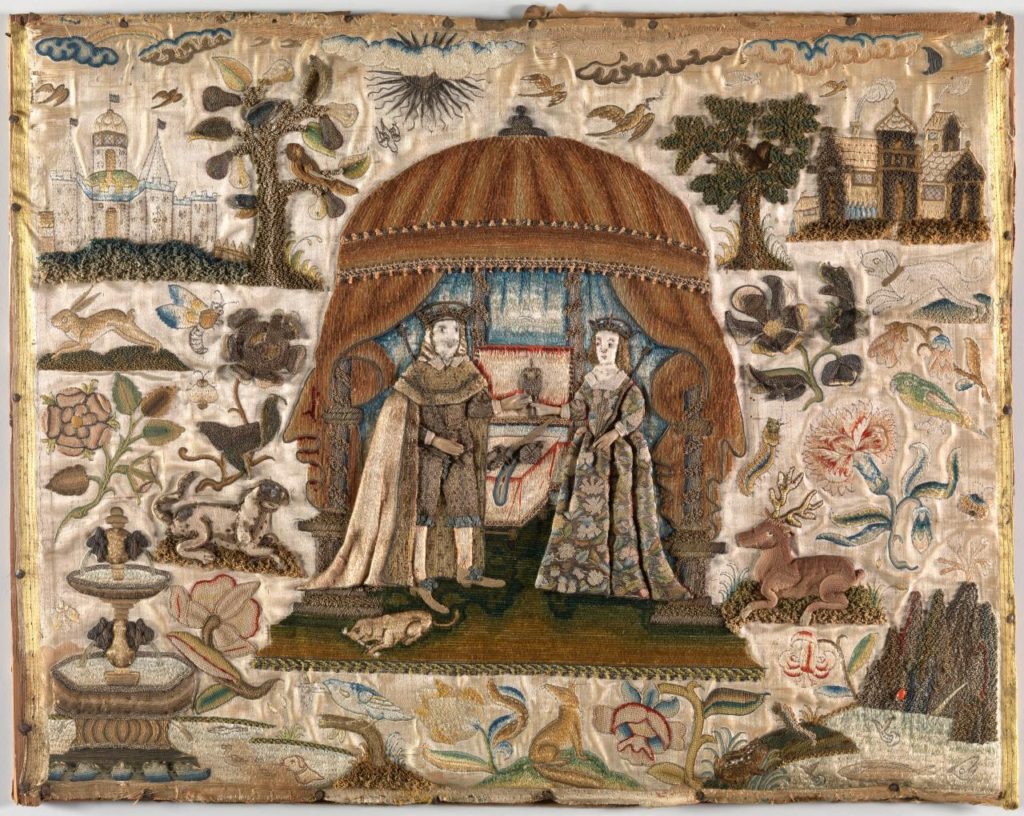 Title: King Charles I and Queen Henrietta Maria
Place: England
Date: Mid-1600s
Medium & technique: Embroidery of silk, linen, paper, metal and silk thread, mica, pearls, coral, wood, cotton wadding; mounted on board
Dimensions: 433 x 543 mm
Themes: Bodies – Inside & Outside
Collection: National Gallery of Victoria, Melbourne, International Fashion and Textiles, Purchased, 1957, 1733-D4. This digital record has been made available on NGV Collection Online through the generous support of Professor AGL Shaw AO Bequest.
This extraordinary embroidery is thought to depict King Charles I and Queen Henrietta Maria of England. When Charles I was executed in 1649, a cult grew up in his memory, and this image may have been made as a commemorative object. Other examples survive with the King and Queen, their poses based on a 1634 engraving derived in turn from a painted portrait by Anthony van Dyck. The two royal figures are surrounded by birds, animals, and flowers in all different scales. Embroidery work like this was made by aristocratic girls as part of their education, and individual panels could be converted for many uses; Hannah Smith's casket is another example of this production. Here the regal bodies stand out in relief and are elaborately dressed, stressing their difference from other human bodies and calling attention to them. But their grandeur is deceptive: conservation work has revealed that they have actually been created from such humble materials as cotton and paper, with little wooden hands covered with silk and painted to suggest flesh.
Anne Dunlop, University of Melbourne
Further Reading:
Exquisite Threads: English Embroidery 1600s-1900s (Melbourne: National Gallery of Victoria, 2015).
Andrew Morrall and Melinda Watt, eds, English Embroidery from The Metropolitan Museum of Art,1580–1700: 'Twixt Art and Nature (New York and New Haven: Bard Graduate Center, The Metropolitan Museum of Art, Yale University Press, 2009).