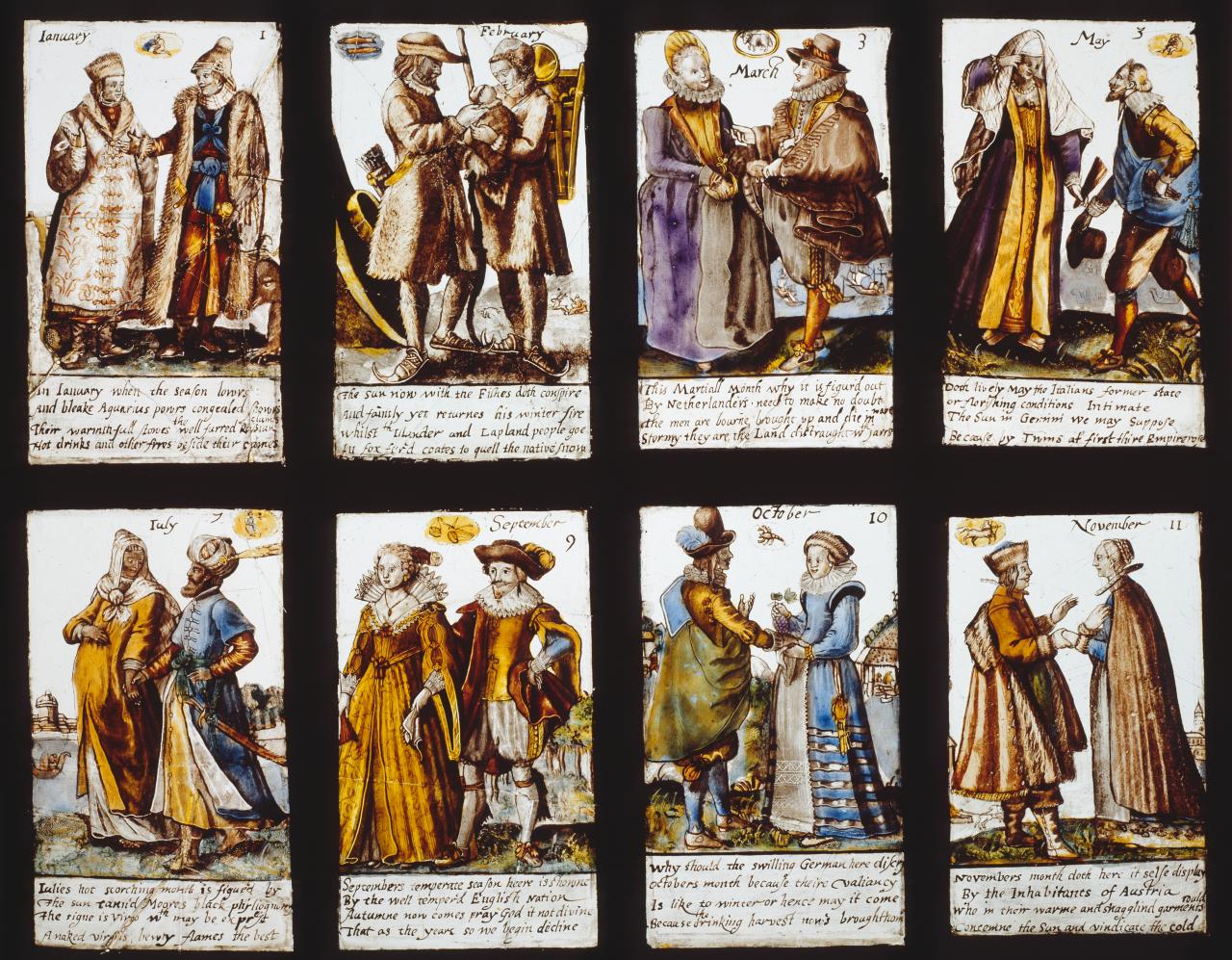 Title: Eight Months of the Year
Place: England
Date: Seventeenth century
Medium & technique: Painted glass in lead
Dimensions: 328 x 412 mm
Themes: Global – Local
Collection: National Gallery of Victoria, Melbourne, 541A-D5. This digital record has been made available on NGV Collection Online through the generous support of Digitisation Champion Ms Carol Grigor through Metal Manufactures Limited.
The eight fashionable couples shown here probably once decorated a private home. They are based on a series of Dutch prints of the twelve months of the year from the early seventeenth century. The months of April, June, August, and December are now missing. The pairs for the other months are drawn from all over Europe, moving roughly from the coldest climates to the warmest ones and back again as the year progresses: Russians, Icelanders and Lapps, Netherlanders, Italians, Turks, English, Germans and Austrians. The verses below by the English poet Abraham Holland (d. 1626) link the climate zones with the character of the people. This was a very old idea, but in early modern Europe it became tied to both nationalist stereotypes and to a much larger interest in the culture and customs of foreign peoples and lands. Read more about this object.
Anne Dunlop, University of Melbourne
Further Reading:
Heather A. Hughes, 'Fashion, Nation, and Morality in English Allegorical Costume Prints, ca. 1620–40', in Visual Typologies from the Early Modern to the Contemporary: Local and Global Practices, eds. Tanya Zanardi and Lynda Klich (New York and London: Routledge, 2018), 15-30.