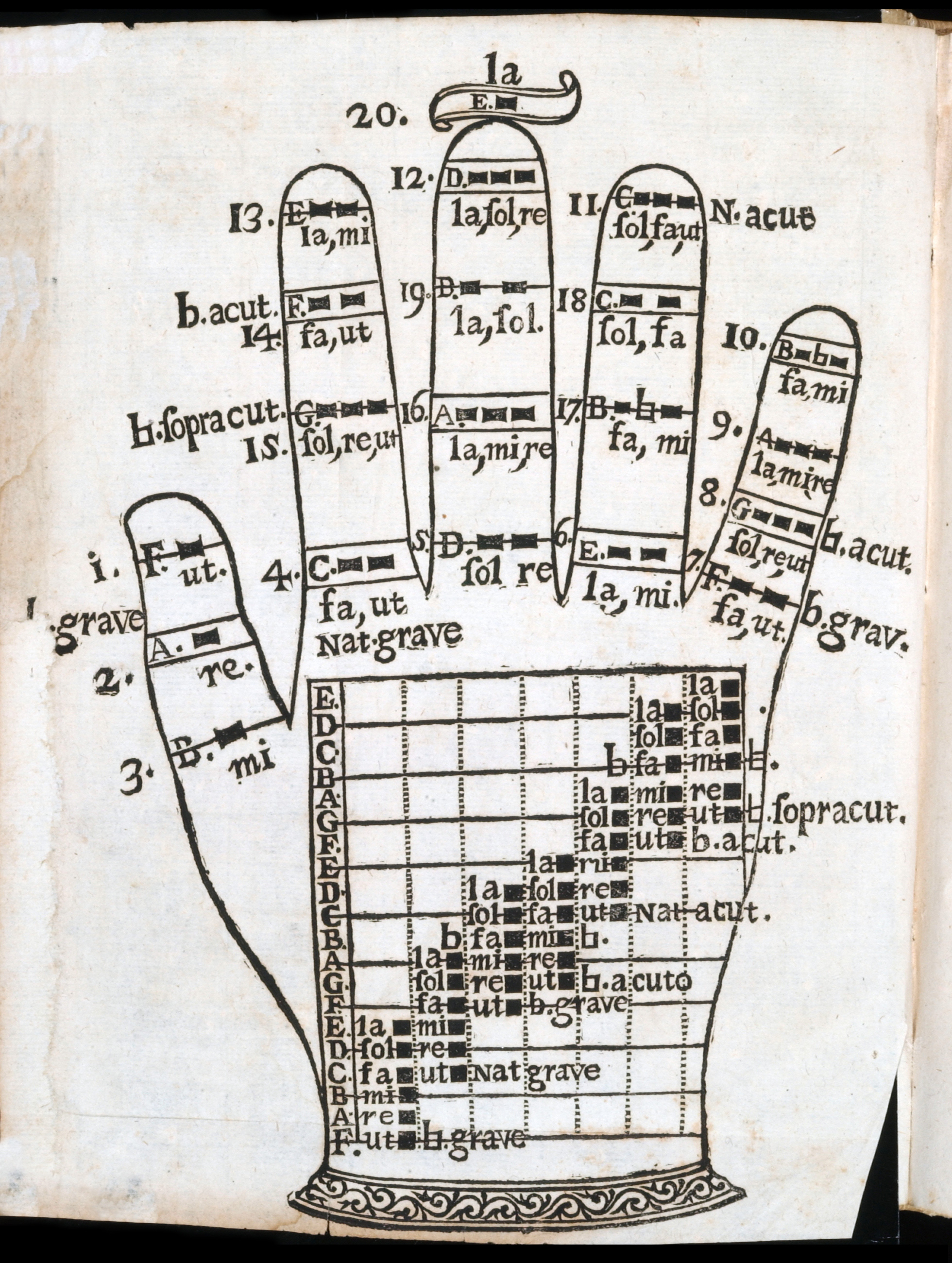 Title: 'Guidonian Hand,' in Giuseppe Frezza dalle Grotte, Il Cantore ecclesiastico: per istruzione de'religiosi minori conventuali, e beneficio commune di tutti gl'ecclesiastici
Place: Published in Padua by Giovanni Manfré
Date: 1713
Medium & technique: Woodcut on paper
Dimensions: 230 x 320 mm
Themes: Bodies – Inside & Outside
Collection: The University of Melbourne Hanson-Dyer Music Collection
This simple woodcut is a fold-out in a book for novice singers. It records a memory system known as a 'Guidonian Hand' after the Benedictine monk and musical theorist Guido d'Arezzo (991/992–after 1033), although it predated him. The system depended on the classical idea of taking materials to be remembered and mapping them onto a series of real or imagined places, in this case the singer's own left hand. Twenty-one notes were placed in a spiral pattern from the tip of the thumb down each joint, across the base of the four fingers, up the joints of the pinkie, across the finger tips and then down the index and inward to the remaining joints of the ring finger and middle finger; a final note was placed on the back of the hand. To teach a song, the choirmaster needed only to point to the 'place' and the singer would know the corresponding note to sing. By the time this book was published, printed sheet music was common, and the 6-note scale of medieval music had been largely replaced by the modern 8-tone system. Yet Il Cantore ecclesiastico still included the diagram: the author claimed it would allow students to keep musical knowledge literally 'at their fingertips' (sulla punta delle dita).
Anne Dunlop, University of Melbourne
Further Reading:
'Solmization and the Guidonian Hand in the 16th Century,' https://www.earlymusicsources.com/youtube/solmization (last accessed 4 August 2019).
Stefano Mengozzi, 'Constructing Difference: The Guidonian Hand and the Musical Space of Historical others,' in Studies in Medievalism XVI: Medievalism in Technology Old and New, eds. Karl Fugelso with Carol L. Robinson (Cambridge: Boydell & Brewer, 2008), 98-122.