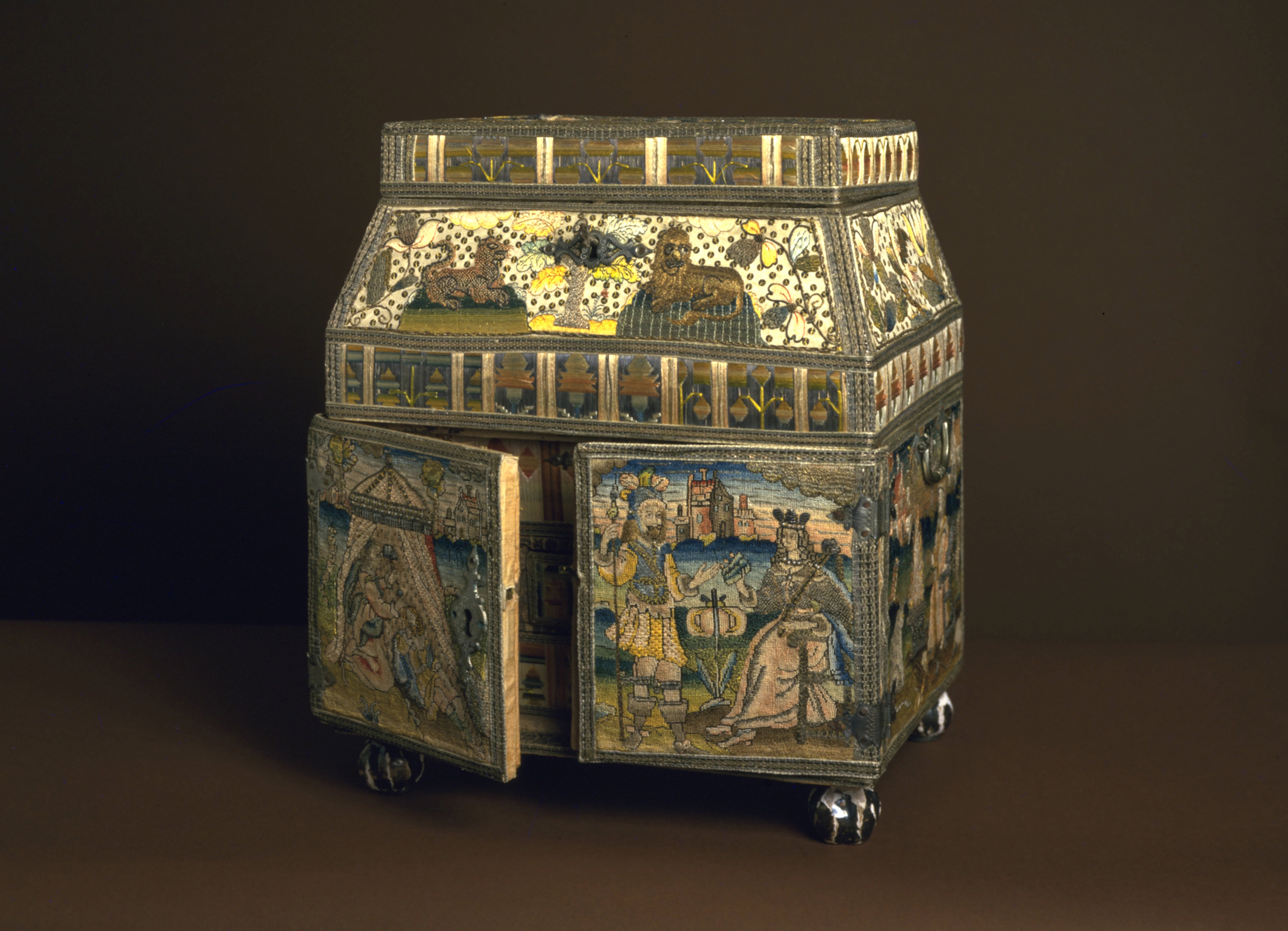 Title: Hannah Smith's Casket
Place: England
Date: 1654–1656
Medium & technique: Wood, satin, canvas, with  embroidery in silk, metal thread, with spangles/seed pearls
Dimensions: 305 x 255 x 190 mm
Themes: Global – Local
Collection: (c) the Whitworth, The University of Manchester
This embroidered casket was made by Hannah Smith and completed when she was about fourteen years old. In the seventeenth century, young women would often embroider designs on fabric, which would then be fitted onto wooden cabinets. Hannah Smith's casket demonstrates the skills she attained: the use of different stitches and hard-to-handle materials such as gilt and silver thread. The images on the casket depict biblical scenes, including the story of Joseph in the pit (Genesis 37:18–24) and – on the two main front panels – Deborah and Barak (Judges 4:1–5:31), Jael and Sisera (Judges 4:17–22). Figures representing Summer and Winter are on the side panels. Such decorative motifs as the lion and the leopard, on the front sloping lid of the casket, were Royalist symbols, and it has been suggested that these show Hannah's sympathies, or those of her family, during the period of the Commonwealth, after the execution of Charles I and before the Restoration of the monarchy in 1660. Notably, the figures of Deborah – the only female judge in the Bible – and Jael – who delivered the people of Israel from enemy forces – were both strong women, perhaps viewed as exemplars by Hannah Smith. Read more about this object.
Katy Ellis and Cordelia Warr, University of Manchester
Further Reading:
Susan Frye, Pens and Needles: Women's Textualities in Early Modern England (Philadelphia: University of Pennsylvania Press, 2010).
Jennifer Harris, A Closer Look at Hannah Smith's Casket (Manchester: The Whitworth Art Gallery, 1998).
Amanda Pullan, 'Needlework and Moral Instruction in English Seventeenth-Century Households: The Case of Rebecca,' Studies in Church History (Religion and the Household) 50 (2014), 254-268.
Isabella Rossner, '"A Cunning Skill Did Lurk": Susanna Perwich and the Mysteries of a Seventeenth-Century Needlework Cabinet,' Textile History 49/2 (2018), 140-163.