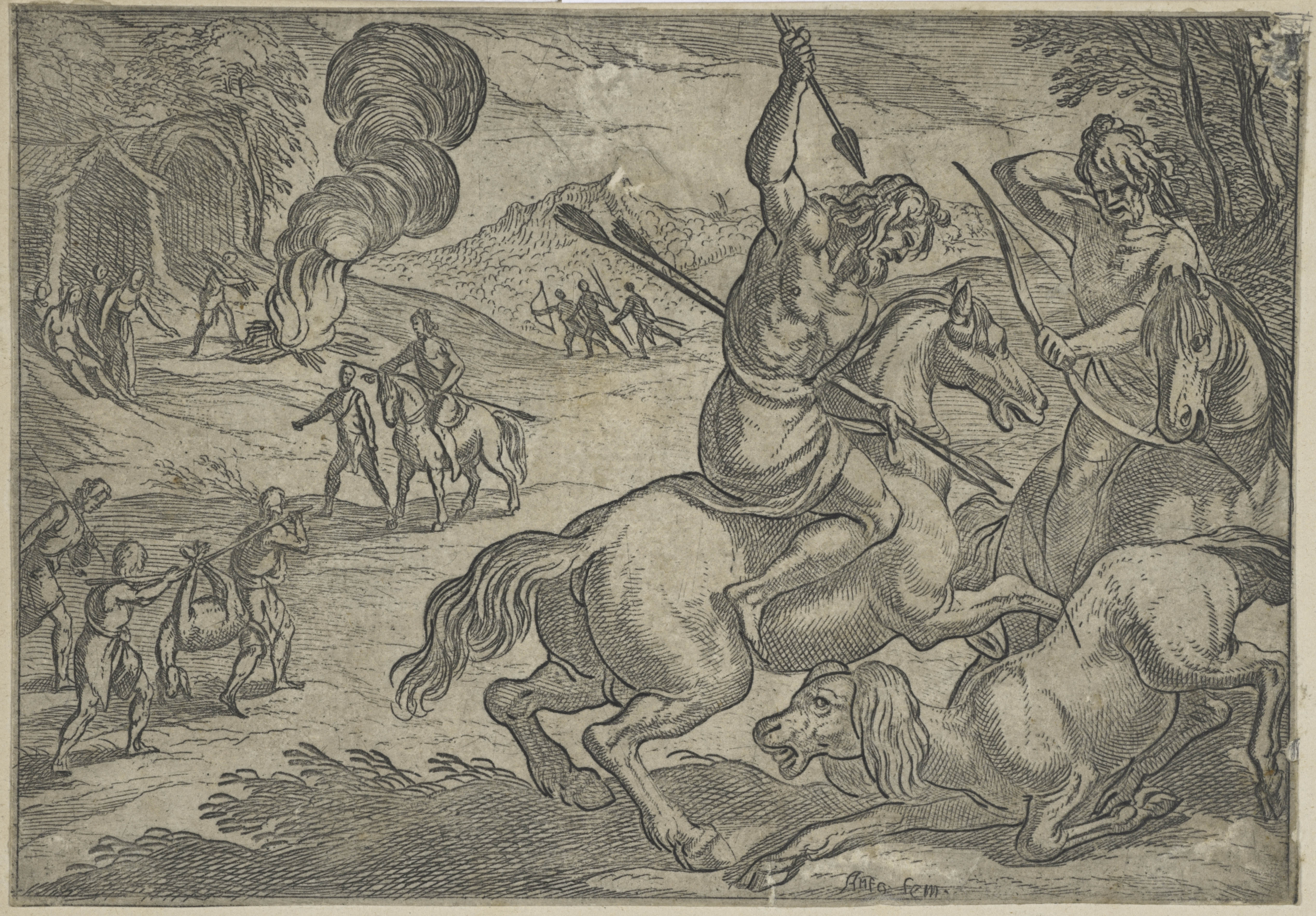 Title: Primitive hunters killing wild dogs by Antonio Tempesta
Place: Rome
Date: After 1598
Medium & technique: Etching on paper
Dimensions: 98 x 139 mm
Themes: Global – Local / Monstrous – Marvellous
Collection: Baillieu Library Print Collection, The University of Melbourne, 1959.4049.001.000. Gift of Dr. J. Orde Poynton 1959.
Antonio Tempesta's Primo Libro di Caccie Varie ['First Book of Various Hunts'] included 46 prints of different hunts, with information drawn from ancient writers like Pliny as well as contemporary sources. The series had a notable emphasis on hunts by foreign peoples: of the 46 prints, 17 showed hunters beyond Europe. Here, despite the vague title that seems to point to history instead of geography, what seem to be American hunters are about to spear a beast known vaguely as a 'Peruvian camel.' Read more about this object.
Arvi Wattel, University of Western Australia
Further Reading:
Alessandra Baroni and Manfred Sellink, Stradanus, 1523–1605. Court Artist of the Medici (Turnhout: Brepols, 2012).
Michael Bury, 'Antonio Tempesta as a Printmaker: Invention, Drawing, and Technique,' in Drawing 1400–1600. Invention and Innovation, ed. Stuart Carrie (Aldershot: Ashgate, 1998) 189-205.
Detlef Heikamp, Mexico and the Medici (Florence: Editrice Edam, 1972).
Eckhard Leuschner, 'Censorship and the Market. Antonio Tempesta's "New" Subjects in the Context of Roman Printmaking ca. 1600', in The Art Market in Italy: 15th-17th centuries, eds. Marcello Fantoni, Louisa C. Matthew and Sara F. Matthews-Grieco (Modena: Panini, 2003), 65-73.