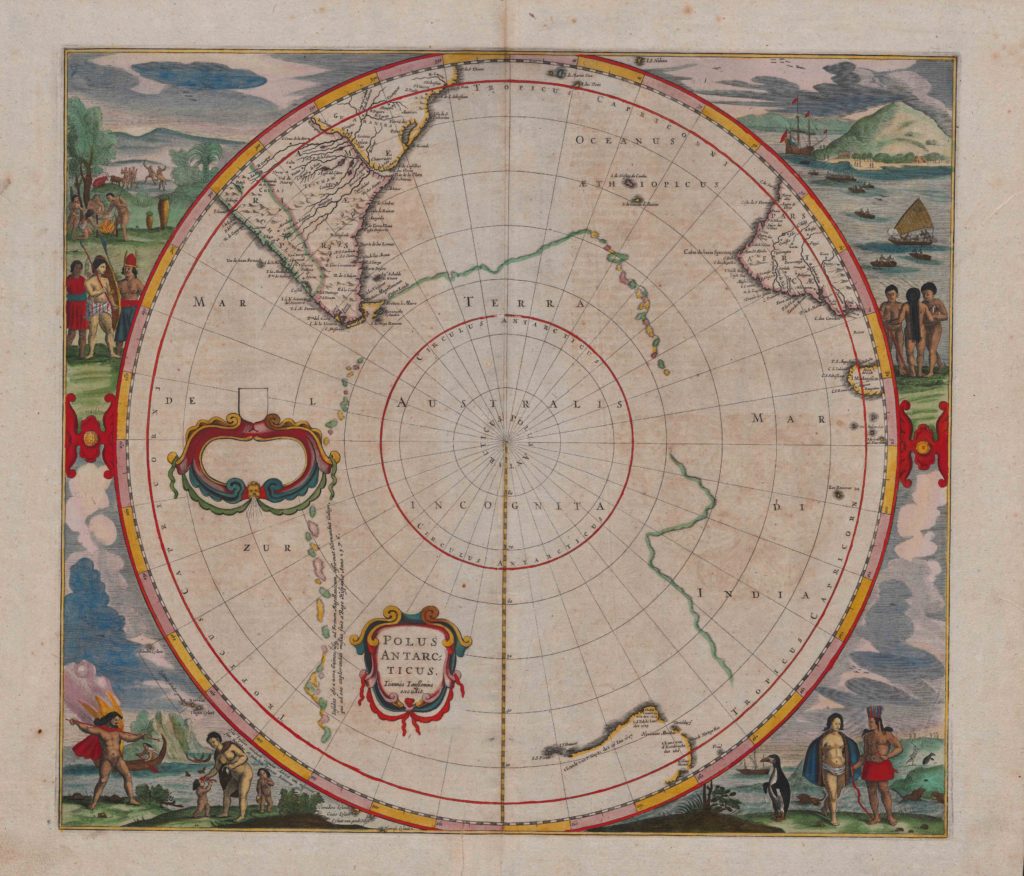 Title: Polus Antarcticus (South Pole) by Jan Jansson (after Henricus Hondius)
Place: Amsterdam, 'Apud Ioannem Ianssonium'
Date: c. 1641–50
Medium & technique: Hand-coloured engraving on paper
Dimensions: 432 x 492 mm
Themes: Global – Local
Collection: The University of Melbourne Map Collections
Jan Jansson's Polus Antarcticus is a revised version of a map first issued in 1637 by the cartographer and engraver Henricus Hondius, Jansson's brother-in-law. Polus Antarcticus depicts the southern areas of South America and Africa, parts of the western and southern coasts of Australia, and the Arctic landmass. These last areas were largely unexplored at the time. The map provided viewers not only with geographical details, but also with images of indigenous people and wildlife, stressing an implicit correlation between geography, climate, and human variation. The popularity of Hondius's original map ensured that Polus Antarcticus continued to be revised and reprinted by various publishers over the course of sixty years. Read more about this object.
Catherine Mahoney, University of Melbourne
Further reading:
Surekha Davies, Renaissance Ethnography and the Invention of the Human: New Worlds, Maps and Monsters (Cambridge: Cambridge University Press, 2016).
J. Keuning, 'The History of an Atlas: Mercator, Hondius', Imago Mundi, 4 (1947), 37-62.
G. Schilder, 'Development and Achievements of Dutch Northern and Arctic Cartography in the Sixteenth and Seventeenth Centuries', Arctic, 37 (1984), 493-514.
Lawrence C Wroth, 'The Early Cartography of the Pacific', The Papers of the Bibliographical Society of America, 38 (1944), 87-231, 233-268.