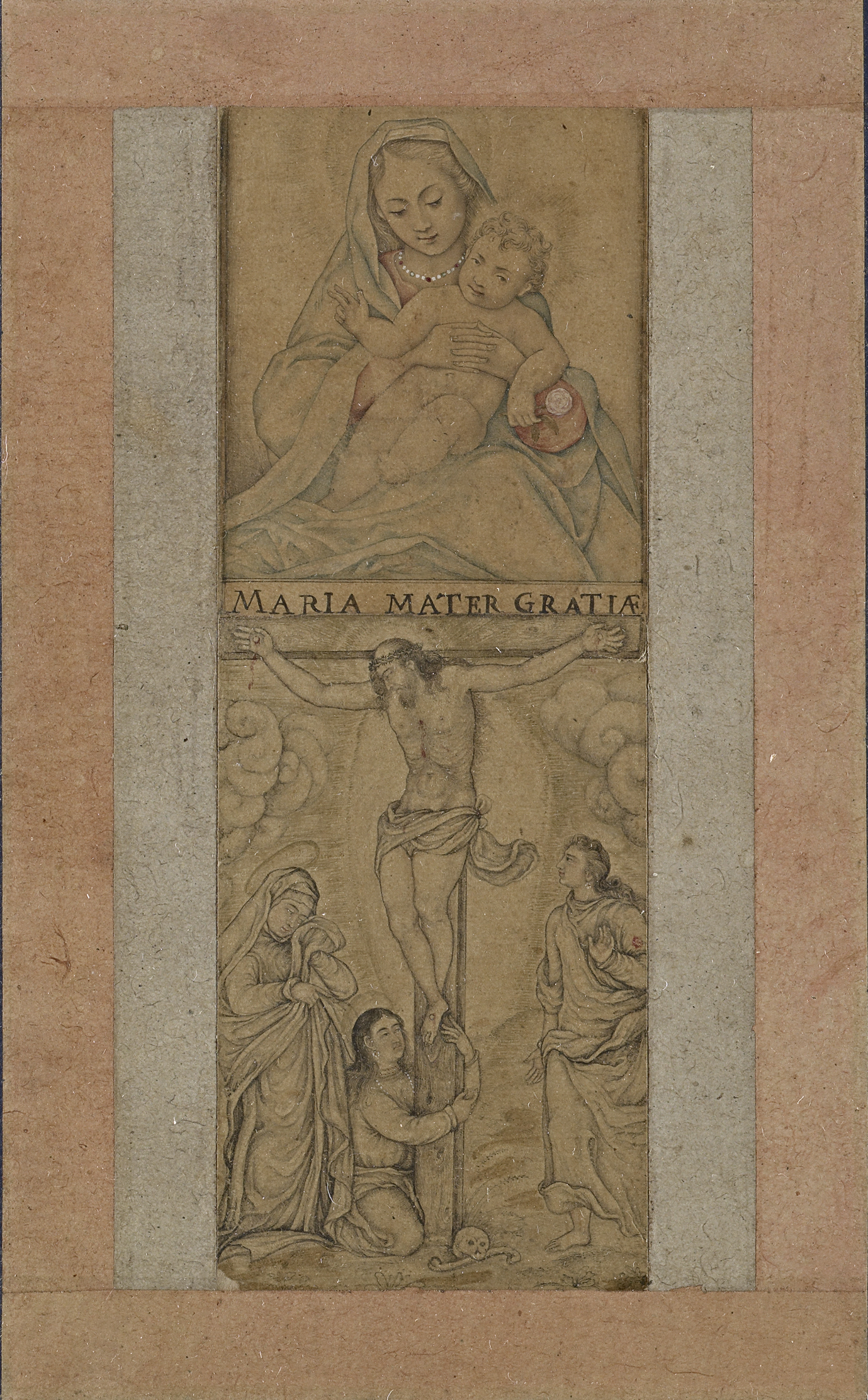 Title: The Virgin and Child and The Crucifixion
Place: India
Date: c. 1600
Medium & technique: Opaque watercolour, gold, pen and ink on paper
Dimensions: 315 x 207 mm
Themes: Global – Local
Collection: National Gallery of Victoria, Melbourne, AS5-1978. Purchased, 1978,. This digital record has been made available on NGV Collection Online through the generous support of The Gordon Darling Foundation.
This miniature is one example of the well-attested interest in European and other imported visual models at the Indian Mughal court. In this case, two prints have been carefully copied to create an album page. The Virgin and Child follows a print made before 1582 by the Italian artist Federico Barocci of Urbino [https://www.ngv.vic.gov.au/explore/collection/work/24676/]. The Indian artist has however focused on the figures, omitting the landscape and adding delicate washes of colour. The Latin inscription, 'Maria Mater Gratiae' or Mary Mother of Grace, is not found on the original print, but was (and is) a Catholic title for the Virgin. The Crucifixion is also clearly based on a European model from the later sixteenth century, although the exact source is uncertain. Such prints reached Indian viewers through diplomatic gifts and through books and prints brought by Jesuit missionaries and southern European merchants. Images modelled on imported sources were grouped and brought together in album collections, allowing rulers and aristocrats to own, compare, and contrast many styles together. Foreign art forms were a small but important part of Mughal imperial production, pointing to the global outlook and outreach of the Indian Emperor's court.
Anne Dunlop, University of Melbourne
Further Reading:
Yael Rice, 'The Global Aspirations of the Mughal Album,' in Rembrandt and the Inspiration of India, ed. Stephanie Schrader (Los Angeles: J. Paul Getty Museum, 2018), 60-77.