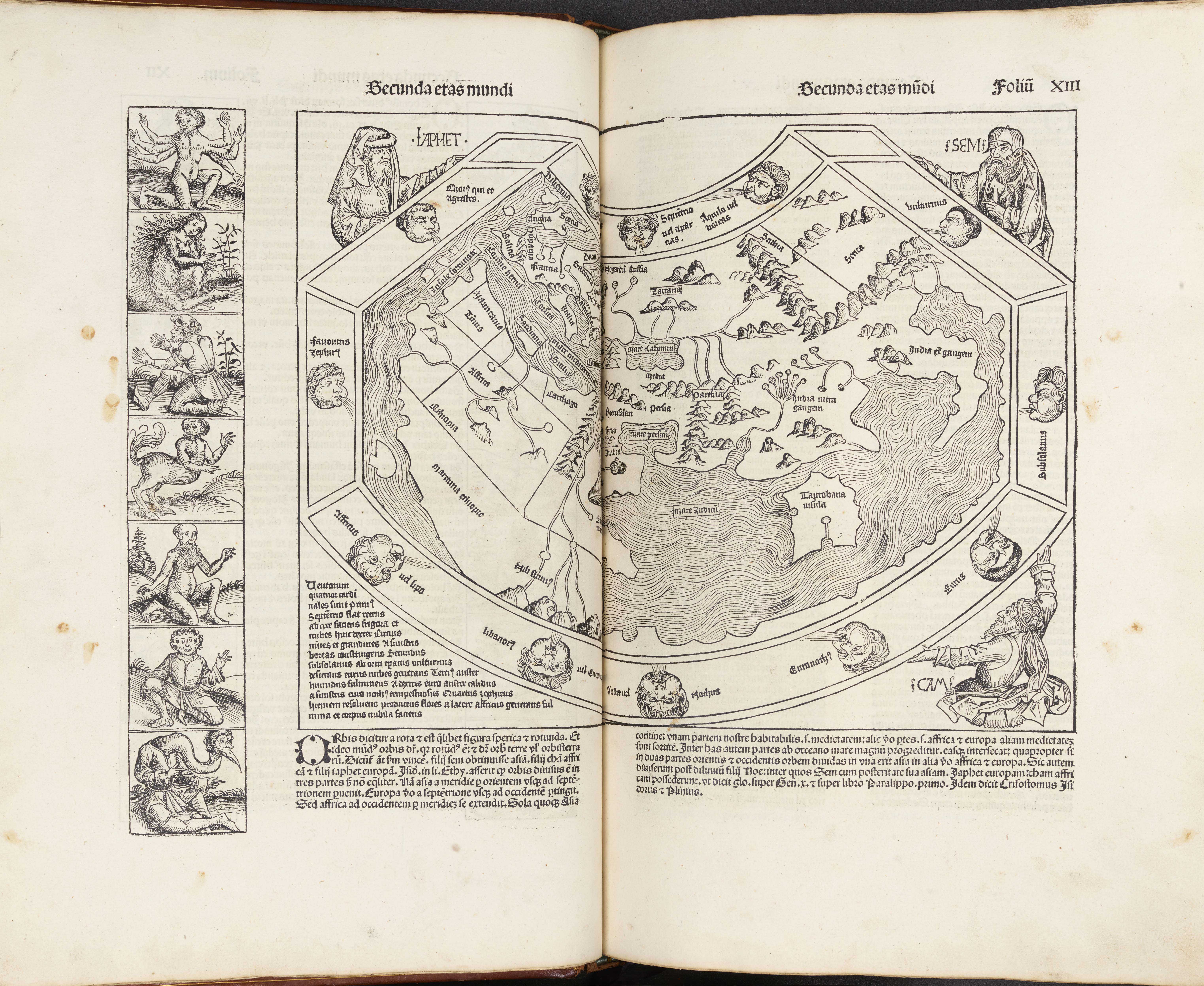 Title: 'Map of the world,' in Hartmann Schedel, Liber chronicarum (Nuremberg Chronicle), fols 12v–13r
Place: Printed in Nuremberg by Anton Koberger for Sebald Schreyer and Sebastian Kammermeister
Date: 1493
Medium & technique: Woodcut on paper
Dimensions: 500 x 688 mm
Themes: Global – Local / Monstrous – Marvellous
Collection: The John Rylands Library, (c) The University of Manchester
Extending across two large folios of a 1493 copy of Hartmann Schedel's Liber Chronicarum, better known as the Nuremberg Chronicle, is this woodcut map of the world, or mappa mundi. The artists, Michael Wolgemut and Wilhelm Pleydenwurff, have represented the world in an essentially medieval way, with only three continents and surrounded by personifications and imaginary figures. Africa is positioned on the left, Asia stretches across the right, and Europe is situated in the top left corner. Jerusalem is near the centre, mountain ranges and seas are indicated, and the eccentrically-shaped whole is surrounded by Ocean. The Latin text states that the earth is round, and then goes on to describe its major land masses and the twelve winds. The latter are positioned equidistant inside Ocean, and are depicted in the Classical manner as puffy-cheeked faces, forcefully blowing breath from twelve different directions. Read more about this object.
Debra Higgs Strickland, University of Glasgow
Further Reading:
John Block Friedman, The Monstrous Races in Medieval Art and Thought (Syracuse, NY: Syracuse University Press, 2000).
Stephanie Leitch, Mapping Ethnography in Early Modern Germany: New Worlds in Print Culture (New York: Palgrave Macmillan, 2010), Chapter 2.