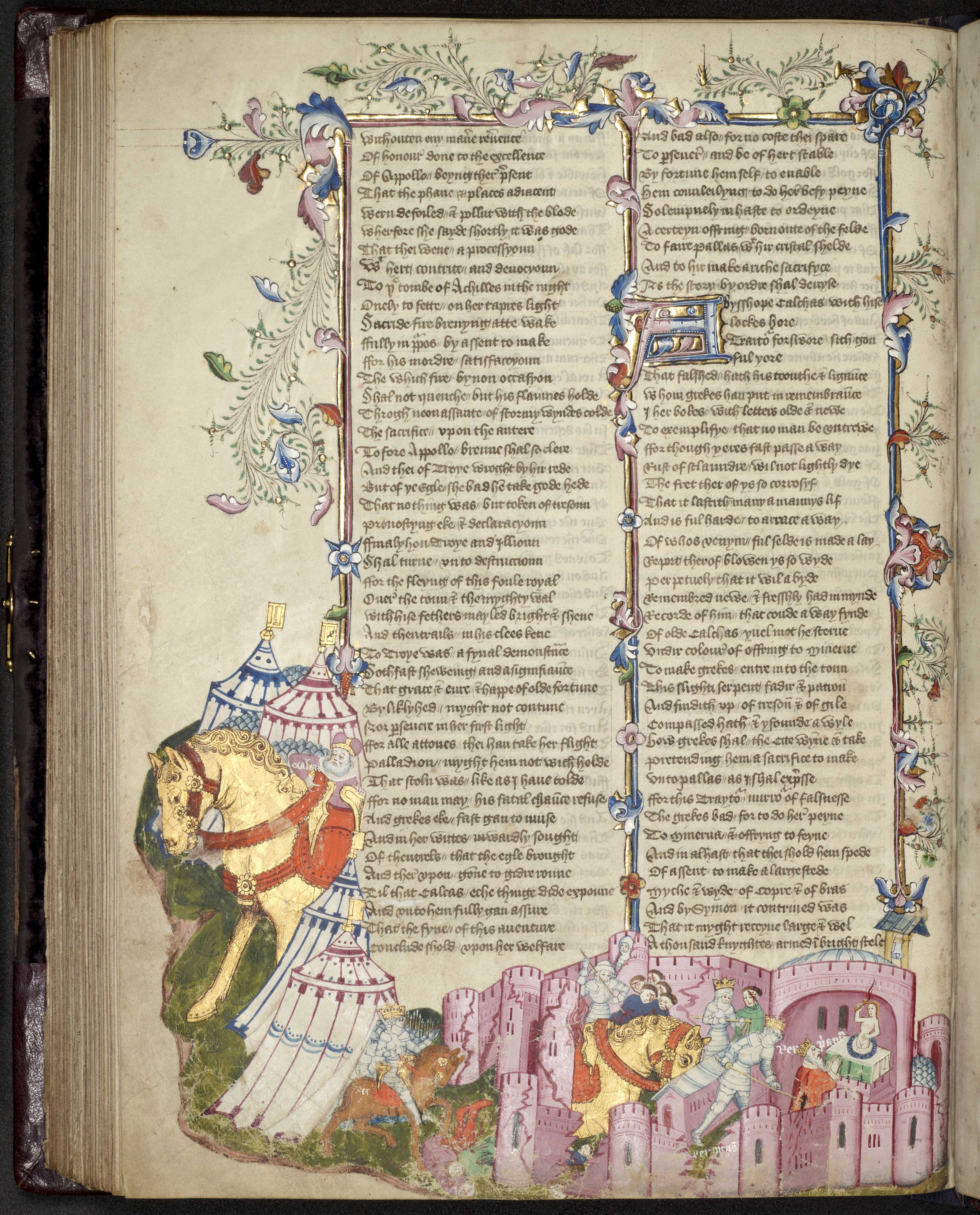 Title: 'Great Horse of Troy,' in John Lydgate, Siege of Troy, Rylands English MS 1, fol. 145v
Place: England
Date: Mid-fifteenth century
Medium & technique: Hand-painted illumination on parchment
Dimensions: 451 x 326 mm
Themes: Bodies – Inside & Outside / Global – Local / Monstrous – Marvellous
Collection: The John Rylands Library, (c) The University of Manchester
This image is from a mid-fifteenth-century illuminated manuscript of John Lydgate's poem, Siege of Troy, written in Middle English between 1412 and 1420. It is based on Guido delle Colonne's thirteenth-century Historia destructionis Trioӕ, a retelling of the mythological-historical Trojan Wars. A giant horse with a red bridle and saddle is being brought into Troy. The Greek army, hiding inside the horse, can thus invade the city, which is depicted with cracked and damaged walls. Unlike the hollow wooden horse described in Homer's Odyssey (late-eighth century BCE), Lydgate's horse is a monstrous foreign invader made of copper and bronze in the text and of gold in the accompanying image in Rylands English MS 1. Lydgate composed the Siege of Troy as an allegory about the nature of war and the poem is filled with warnings against using violence to resolve conflict. The horse can be seen as a demonstration of this danger. It is the instrument used to enact violence and destroy a city.
Katy Ellis, University of Manchester
Further Reading:
Andrew Lynch, '"With face pale": Melancholy Violence in John Lydgate's Troy and Thebes,' in Joanna Bellis and Laura Slater, eds., Representing War and Violence: 1250–1600 (Woodbridge: The Boydell Press, 2016), 79-94.
Lynn Shutter, 'Truth, Translation, and the Troy Book Women,' Comitatus: A Journal of Medieval and Renaissance Studies 32/1 (2001), 69-98.