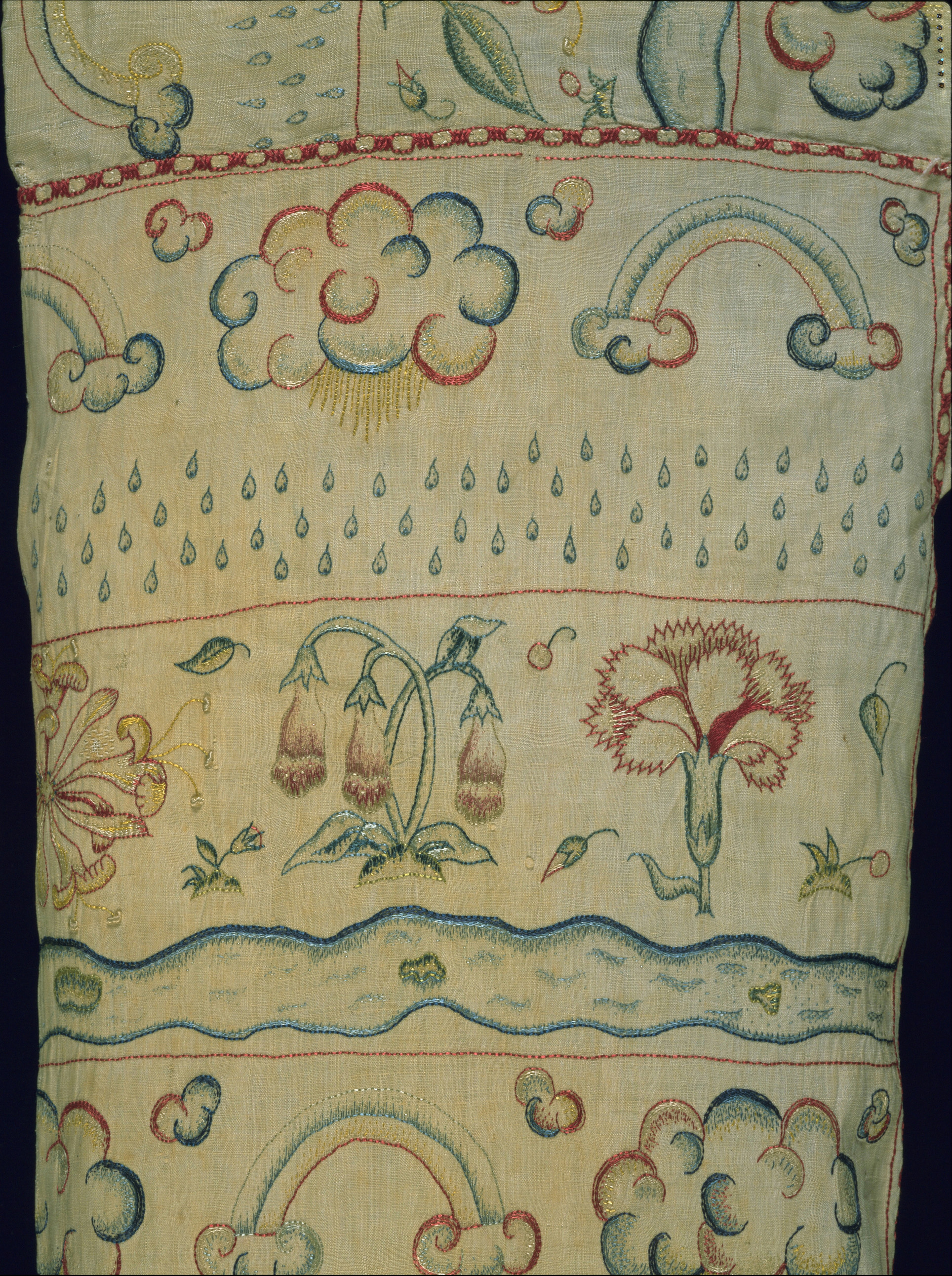 Title: Woman's smock
Place: England
Date: c. 1600
Medium & technique: Linen, hand-embroidered with coloured silks
Dimensions: 400 x 1390 mm (bodice and sleeves)
Themes: Bodies – Inside & Outside
Collection: (c) the Whitworth, The University of Manchester, T.11015
The embroideries shown in this detail – featuring carnations, foxgloves and honeysuckle – decorate an early-seventeenth-century woman's smock, or shift. Originally full length, only the patterned bodice and sleeves have survived and it is likely that the owner cut off the plain, lower half of the garment after the linen became marked or damaged. One of the functions of an undergarment like this smock was to draw sweat and impurities away from the body and various contemporary authors mused on the consequences of wearing dirty or clean linens. From sweet-smelling flowers to a shower of raindrops and clouds anticipating a storm, the embroideries on the smock remind us of the influence of the environment on the body and the role of this garment in shielding the wearer from the hazards of bad air and excess heat or cold. Read more about this object.
Elizabeth Currie, Victoria and Albert Museum/ RCA
Further Reading:
Sandra Cavallo and Tessa Storey, Healthy Living in Late Renaissance Italy (Oxford: Oxford University Press, 2013).
Elizabeth Currie, 'Health Hazards: Clothing's Impact on the Body in Italy and England, 1550-1650', Bulletin of the John Rylands Library 95/2, (2019), 115-133.
Sasha Handley, Sleep in Early Modern England (New Haven and London: Yale University Press, 2016).