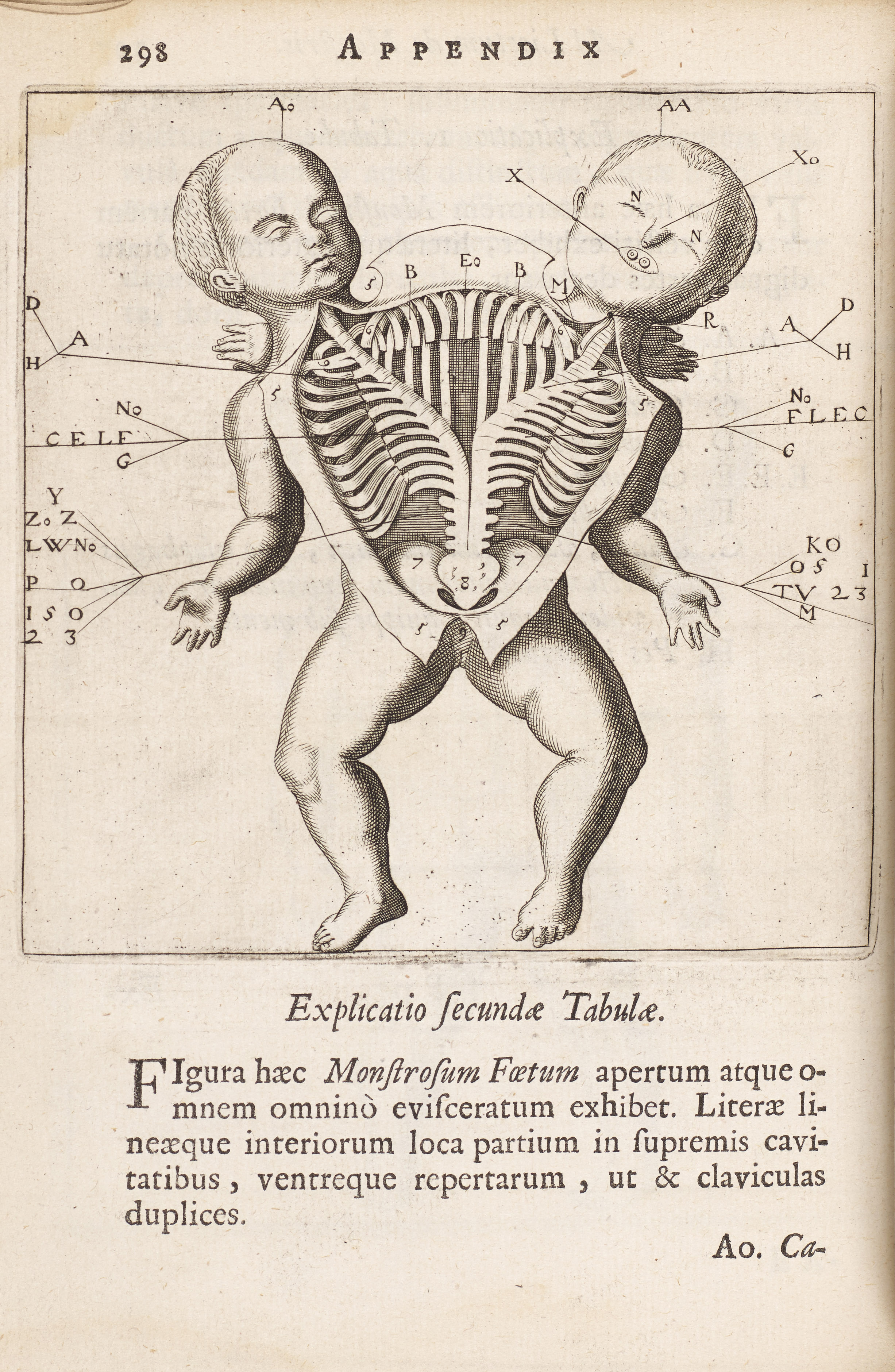 Title: 'Monstrosum fœtum (Monstrous foetus),' in Fortunio Liceti, De monstris (On monsters), with preface and appendix by Gerard Blasius, page 298
Place: Published in Amsterdam by Andreas Frisius
Date: c. 1665
Medium & technique: Engraving on paper
Dimensions: 195 x 137 mm
Themes: Bodies – Inside & Outside / Monstrous – Marvellous
Collection: The John Rylands Library, (c) The University of Manchester
Flaps of skin are peeled open to reveal the unusual anatomy of these twins, who are joined at the spine and ribcage. The image comes from the 1665 edition of Fortunio Liceti's De monstris (On monsters), which was published with a preface and an appendix added by Gerard Blasius (1627–82), a professor of medicine in Amsterdam. Liceti (1577–1657), a professor at the University of Padua, had argued that physical anomalies were not a result of divine punishment, but naturally occurring. The image of the twins comes from Blasius's appendix, adding to other representations of conjoined twins in the main part of the book. The diagrammatic way in which the twins were depicted, suggests Blasius was more interested in the twins as a medical marvel than as a religious or political omen and differs from other representations of conjoined twins in De monstris by showing them as medical specimens rather than live children. Read more about this object.
Danielle Gravon and Cordelia Warr
Further Reading:
Alan Bates, 'Good, Common, Regular, and Orderly: Early Modern Classifications of Monstrous Births,' Social History of Medicine 18/2 (2005), 141-158.
Lorraine Daston and Katharine Park, Wonders and the Order of Nature, 1150–1750 (New York: Zone Books, 2001).
Karen Jillings, 'Monstrosity as Spectacle: the Two Inseparable Brothers' European Tour of the 1630s and 1640s,' Popular Entertainment Studies 2/1 (2011), 54-68.
Jennifer Spinks, 'Wondrous Monsters: Representing Conjoined Twins in Early Sixteenth-Century German Broadsheets,' Parergon 22/2 (2005), 77-112.
Cordelia Warr, '"A Series of Fifty-four Clever Drawings on Vellum": Monstrous Births in Italian ms 63,', The Bulletin of the John Rylands Library 91/1 (2015), 57-80.