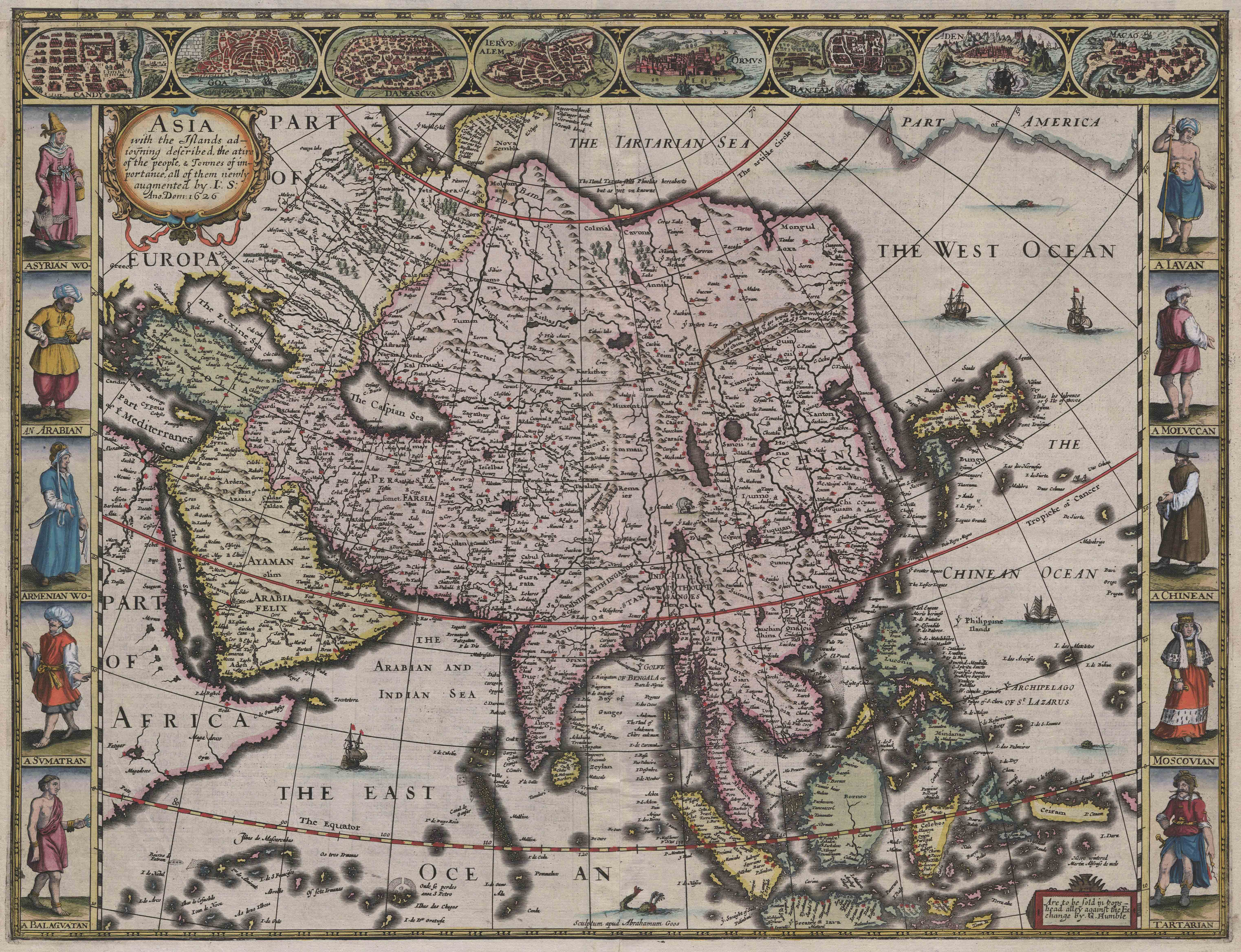 Title: 'Asia with the islands adioyning described, the atire of the people, & townes of importance, all of them newly augmented by I.S. Ano domini 1626', plate from John Speed, A Prospect of the Most Famous Parts of the World
Place: London
Date: 1627
Medium & technique: Engraving with hand-colouring on paper
Dimensions: 430 x 550 mm
Themes: Global – Local
Collection: The University of Melbourne Map Collections
If the Early Modern is defined as an age of accelerating contact, colonization, travel, trade, and exchange, this map is a kind of textbook artifact. The idea of Asia here can be traced back to European Antiquity: it begins at the Mediterranean and encompasses everything to the east, northeast, and southeast. Yet the map also incorporates information from contemporary travel accounts, trade ventures, maps, costume books, and other printed sources; it includes eight views of Asian cities along the top, and ten costumed figures along the sides, giving a kind of pictorial gloss on the geography. Read more about this object.
Anne Dunlop, University of Melbourne
Further Reading:
Sarah Bendall, 'Speed, John, (1551/2–1629),' Dictionary of National Biography (last accessed 5 August 2019), http://www.oxforddnb.com.ezp.lib.unimelb.edu.au/view/article/26093?docPos=1
Guenter Schilder, Monumenta cartographica neerlandica V: Ten Wall Maps by Blaeu and Visscher (Alpehn aan den Rijn: Uitgeverij Canaletto, 1996).