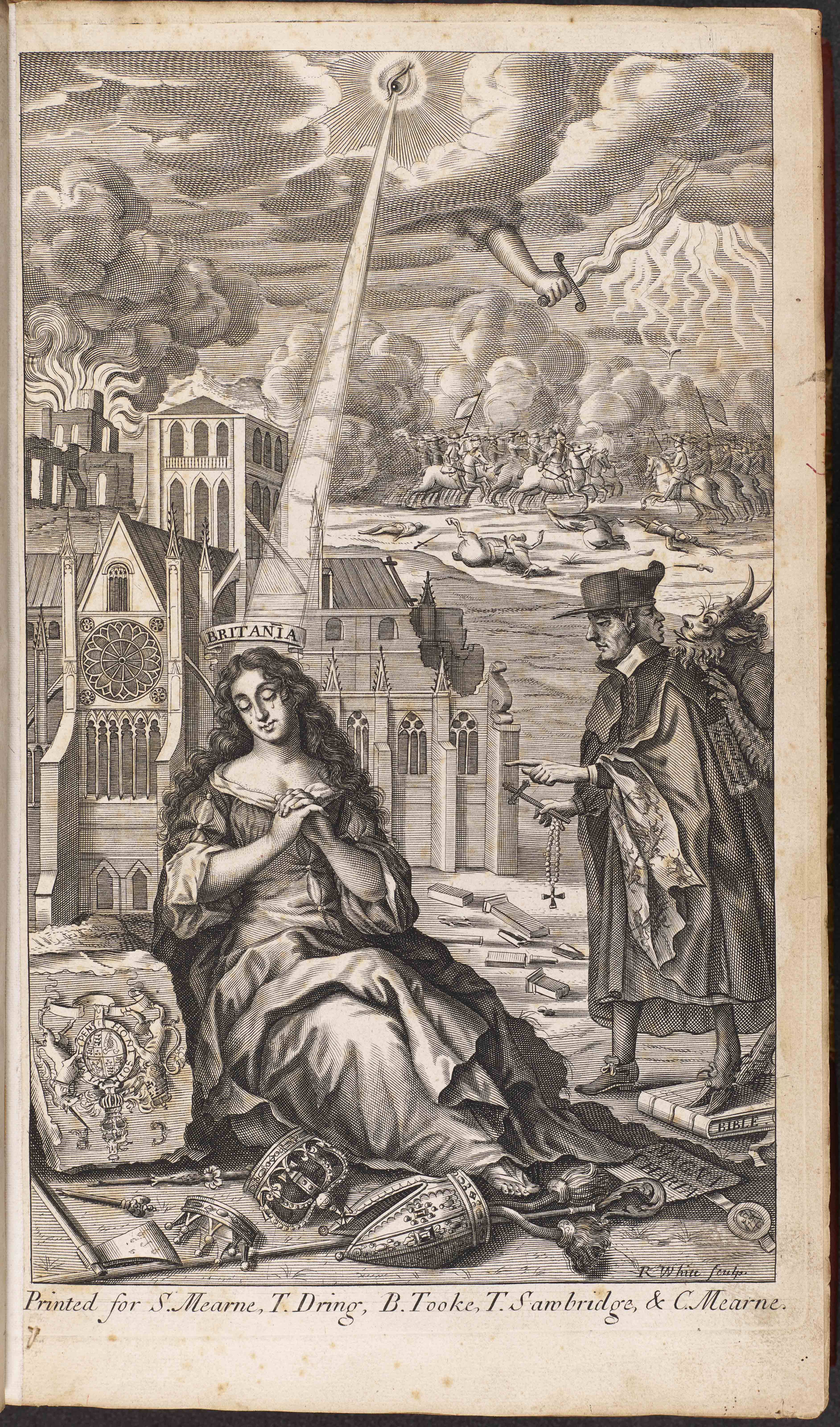 Title: 'Britania', John Nalson, An Impartial Collection of the Great Affairs of the State, From the Beginning of the Scotch Rebellion in MDCXXXIX to the Murther of King Charles I (volume 1 of 2), frontispiece
Place: Printed in London for Thomas Dring
Date: 1682
Medium & technique: Engraving on paper
Dimensions: 340 x 220 mm
Themes: Global – Local / Monstrous – Marvellous
Collection: The John Rylands Library, (c) The University of Manchester
This frontispiece to John Nalson's An Impartial Collection of the Great Affairs of State (2 volumes, London, 1682–83) shows a weeping figure of Britannia (labelled 'Britania') seated in front of the crumbling façade of Old St Paul's Cathedral in London with buildings in flames behind it. A Janus-faced clergyman with one cloven hoof approaches, pushed forward by a monstrous devil whispering into his ear. In the background, a battle rages. The image focuses on religious dissent as the cause of Britannia's distress. Some believed that the great fire of London had been started by Catholic arsonists, while the clergyman is a monstrous amalgamation of Catholic and Presbyterian who has one cloven hoof resting on a closed Bible and whose cloak appears to be lined with figured cloth showing monstrous horned and winged creatures. Read more about this object.
Helen Pierce, University of Aberdeen
Further Reading:
Helen Pierce, 'The Devil and the Detail: An Illustration of Otherness in John Nalson's An Impartial Collection,' Bulletin of the John Rylands Library 95/2, (2019), 63-81.
Helen Pierce, Unseemly Pictures: Graphic Satire and Politics in Early Modern England (New Haven and London,:Yale University Press, 2008). R. C.
Richardson, 'Re-fighting the English Revolution: John Nalson and the Frustrations of Late Seventeenth-Century English Historiography', Review of European History 14/1 (2007), 1-20.